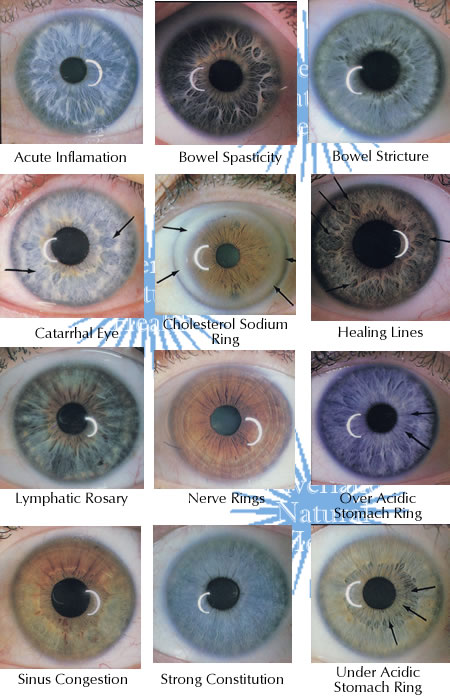 Iridology is a naturopathic diagnostic technique that recognises that patterns, colours, and other characteristics of the iris determine information about a patient's systemic health. Practitioners match their observations to iris charts, which divide the iris into zones corresponding to specific parts of the human body. Iridologists see the eyes as "windows" into the body's state of health. The modern iris chart is the birth child of Bernard Jenson and this discipline of iridology is known as Jenson iridology.
Iridologists use the charts to distinguish between healthy systems and organs in the body and those which are overactive, inflamed, or distressed. Iridologists believe this information may be used to demonstrate a patient's susceptibility towards certain illnesses, to reflect past medical problems, or to predict later consequences of health problems which may be developing.
The true originator of Iridology was a Hungarian physician named Ignatz von Peczely. At 11 years of age Dr. von Peczely noticed an owl in a tree in his backyard. He tried to catch the owl. He accidentally broke one of the owl's legs. He then noticed a dark stripe develop in the lower part of the owl's iris. Dr. von Peczely dressed the owl's leg and nursed it back to health and let it go. However, the owl stayed around and later he noticed the appearance of white and crooked lines in the part of the iris where the dark stripe had been. Thus, The Birth of Iridology was about 1861.
At the same time Dr. von Peczely was involved with his owl, Nils Liljequist of Sweden, 14 years old, was vaccinated and became sick with enlargement of the lymph glands of the neck, coughing, malaria, influenza and pains in the limbs. He was treated with external applications of iodine and was finally prescribed Quinine. As years passed he observed his irises changing more and more and in 1871 he published a paper entitled: "Quinine And Iodine Change The Colour Of The Iris; I Formerly Had Blue Eyes, They Are Now A Greenish Colour With Reddish Spots". In 1864 he broke 2 ribs and noticed the changes in his iris. In 1893 he published an atlas with 258 black and white drawings and 12 coloured double-iris drawings called "Diagnosis From The Eye".
I am trained in both Rayid Iridology and Jenson iridology. Rayid iridology is a more mental emotional type of iridology that believes the iris reveals your true nature and the lessons and gifts you have received from previous generations. There are four main constitutional iris structures: 'Shaker', 'Flower', 'Jewels' or 'Streams'. Each describes personality and behaviour but most importantly, offers an avenue in which to prescribe an appropriate therapeutics strategy.
I must stress however, that iridology is a diagnostic tool only that should be conducted at the end of a full length consultation to confirm a suspected diagnosis. It should not be used on its own to diagnose and anyone who does so is rightly recognised by the medical profession as a "quack".
For a local appointment contact me directly on the number or email below
International consultations available
These encompass the use of video conferencing, email, texting and telephone. Email This email address is being protected from spambots. You need JavaScript enabled to view it. to arrange your app. Cost is 60 euro for a first consult (1 1/2 hrs) returns are 50 euro (1 hr). Treatment plans including naturopathic diagnosis, treatment principles and treatment in terms of diet, lifestyle and supplement advice will be forwarded by email. Herbs can be supplied worldwide.
This email address is being protected from spambots. You need JavaScript enabled to view it.

00 353 091 533030
00 353 083 3466333
Carahealth Galway, Acupuncture, Naturopathy, Homeopathy, Herbal Medicine, Nutrition, Iridolgy, Flower Essences